Arm Trophy — Where Models Shine Like Arm Trophies
Welcome to the most elegant international dating site with the most refined Romance Tours. For men who desire beauty and brains in a wife, Arm Trophy has the most gorgeous and most sophisticated women who you'll fall so deep in love with, you'll never want to leave the house without them! As you walk hand-in-hand with our lovely women, you'll be the envy of every man. Every eye will be on you and your perfect girl. Every man's dream walks with you with the grace and elegance of a queen, and you—the king.

For men who prefer foreign women as lifelong partners, Arm Trophy can match you up with the most sophisticated models of the world. As one of our international dating services, our Romance Tours bring foreign women and men together. Our Personal Translation services are available for each man joining our tours; thereby, connecting men and women without the restraint of tongues. Our Matchmakers can pair you with elegant women who'll crown you with pleasure and prestige.

For men who want the perfect girl whose beauty can give models a run for their money, you are on the best site. Browse through our gallery of Arm Trophies. Choose your bride among our models. The perfect girl awaits you in Arm Trophy.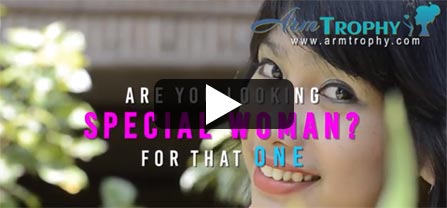 How to Access Arm Trophy Services?
Register as a member and get access to 100 email addresses per month with the Platinum Membership. Start corresponding with our women and meet them in person. Our international dating services makes it easy to find foreign women, correspond with them, and develop a meaningful relationship.

Want to know more about our exciting Romance Tours? These tours make it possible for you to meet a host of stunning women within a short period of time. We bring you on a vacation to a foreign country filled with beautiful women of character. Our tours get attended by a multitude of Asian women, Latin women, Russian women, Ukrainian women, and many more nationalities.

Whether you want to correspond first or go straight to their country and meet them right away, Arm Trophy will be with you every step of the way.